I needed felt bottom caster cups for my piano in order to keep the wheels on the legs from hurting the new wood floor. I didn't think about this in time to get them ordered and shipped to me. Although I live near a major city, I was not able to find a store that had these in stock.
I was ready to use a temporary solution until I was at Lowe's and found something that works. I simply bought parts to put them together to make what I need.
Waxman Soft Touch Cherry Caster Cups (pack of 4)
+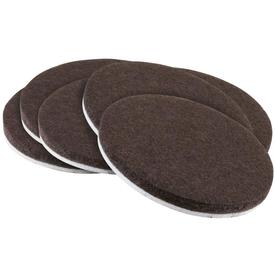 Waxman Soft Touch 2 in. Felt Pads
to place inside the indention
+
Larger felt pads (with adhesive on one side)
to cut to fit the bottom of the wooden caster cups
I checked my invention with the piano mover before using them. He said they would work on a spinet piano (which I have), but are not strong enough for a large upright or grand piano. Mark one thing off my "to-do-list."