Decorating empty-nest bedrooms
We have two empty bedrooms to use for guests. One is furnished while the second bedroom has been a challenge.
Helpful hint: A long-time friend had told me she loved having a guest bedroom with two twin beds because it's more practical. Two non-related guests will often sleep in separate beds when they wouldn't want to share a larger bed.
This is also the bedroom our grand children will use, and is next door to the guest room their parents would be in. Two twin beds would serve multiple purposes for us.
Lace and bows on my mind
Because we have two grand daughters, my mind instantly started thinking about lace and bows, with headboards to match. Should we go trendy with beautiful chalk painted headboards? Or maybe we could find a matching pair of 4-poster beds.
Almost daily, I searched every on-line site in our area.
At the same time, I was also aware that I might not want to use a look that was too girly. After all this room would also serve as a second guest bedroom for adults.
Another piece of the puzzle
We already have the bedroom next door filled with our son's furniture, which we purchased when he was in elementary school. We chose the furniture because we liked it, but also because it was good quality, lasting furniture, that we could hopefully pass down if he ever wanted it in his own home.
We bought a twin bed so he would have more room to play on the floor. I'm not sure if we only purchased one twin headboard because that was our budget, or if I never realized he would grow quickly and a second bed would be more important than playing on the floor.
When our son was in high school, I started keeping an eye on a local online site, and noticed a queen headboard for sale. It looked like it would work well with our son's furniture. When I checked it out, I realized it was from the same collection. The price was reasonable so I purchased the headboard.
When moving to our new home, we decided rather than storing the furniture indefinitely, we would use this set in our guest bedroom. Although I'm still working on the accessories in the room, it is finally coming together and at least it has everything needed for guests.
There are times when plans must be tweaked
As I continued to search stores and online sites for the "perfect" beds or headboards for the second bedroom, a Craigslist ad caught my attention. In front of my eyes were pictures of my son's bedroom set, with a twin headboard included. I gambled and asked if they would consider selling two of the pieces out of the set, which they agreed to do.
The photo above shows this is obviously not the "girly" look I had envisioned, so I would need to change my ideas of how I wanted the room to look. After several minutes of analyzing the situation, I realized this might be the perfect solution. I could stop wasting time looking for headboards every morning.
We would have matching furniture in the two rooms next door to each other, so they would coordinate well. If you could see how close these two doors are it would be obvious that a person can stand in the hall and look into both rooms at once. Having coordinating/matching furniture in the two rooms might be a benefit after all.
A "perfect" solution
Instead of searching for lace and bows, my daughter and I went shopping for an alternative look that would be comfortable for little girls, yet would work for adult guests as well. We found the perfect solution at Bed, Bath & Beyond!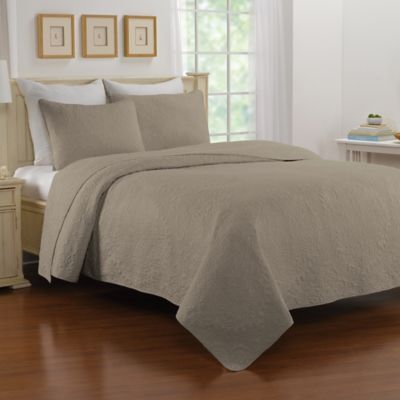 Bed, Bath & Beyond photo
Nostalgia Saville collection gives an understated feel
of heritage while still being machine washable for children's use.
With a scalloped bed skirt, the look works perfectly. Add toys, a small table and chairs, plus a few colorful pillows and blanket and we're ready for grandchildren. Remove the toys and small table and we're ready for adults.
A money saving lesson in patience
One of the best parts of this search was saving money. We had priced headboards in multiple price ranges, but none of them seemed to be the perfect solution. Since we own the matching headboard, it was a bargain to find a second one.
I do realize this furniture might be removed at some point and I'll be starting over. That's okay with me. No one is paying for storage; plus the furniture is safe, cared for, and loved. I have enjoying decorating with a touch of nautical, which this furniture lends itself well too.
Even though I felt like I went in circles to get this room together, the search and time investment paid off! Patience is not my strong point, but I continue to learn. 😎